Donate & Become Part Of Something More
Check out the exclusive breakdown of the upcoming (Beyond Any Man) album featuring input creation from all donated & funded supporters. More Information Below..
Donate To Support (Beyond Any Man) Brand
As we start 2023 i figures after so many mixtapes, guest features & official LPs, i was thinking how i want to make supporters & even non listeners a chance to be a part of some music created by me so they can feel & know how much of my personal emotions go into song writing & recording a song when its connected to any of my emotions i display in everyday life. I also want to know some of their stories not to get an idea of what to write but actually working with the person when creating that song "they maybe" found the outlet for whatever emotions & memories that might have left them with their current perception in life thats good or bad. So a huge list of people who support this full feature album will play a role in creating a song & some might even be featured but i have to fund this project from 0$ cause this is more then personal & not about gaining fame & high chart numbers or given control to any other label or agency who only look for what sells. Between myself & investing every cent from music into this huge project all i ask is if you ever felt you wanted to become a part of something where you actually play the same part as myself.. then let me tell your life story, if you relate enough to my music to tell me.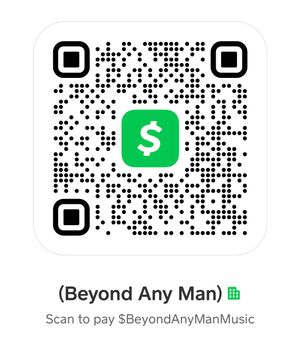 Donate Directly To (Beyond Any Man) Without P2P Payment Apps. It's 100 % Safe & No Personal Info Is Given.
Every Supporter Recieve A Personal Thank You & Live Mention During The #PopularStranger Podcast Segment: #BeyondVerifiedLive.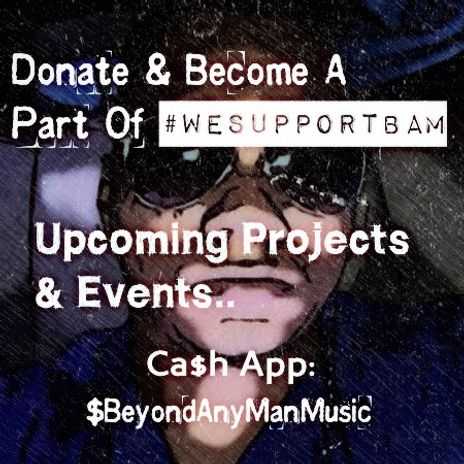 Donate To #WeSupportBAM | (Beyond Any Man) Brand
Help support the (Beyond Any Man) music brand by giving a little & become a part of something more. With every donation, each supporter will recieve exclusive music, have access to future live streams & also recieve a public expression of thanks during live events or podcast. You will also get a chance to win other prize.
Enter the amount you wish to donate